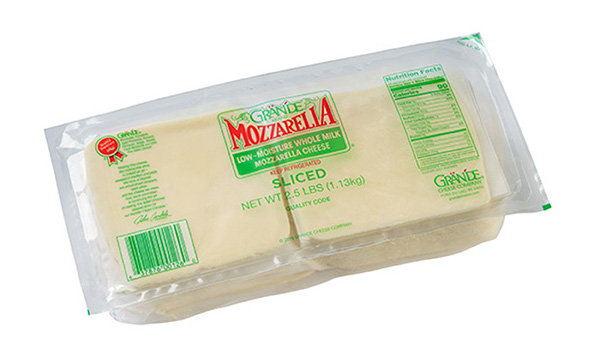 Nutrition Facts
40 servings per container
Serving size
1 slice (1 oz) (28g)
% Daily Value*
Trans Fat 0g
Total Sugars 0g
0%
Includes 0g Added Sugar
Protein 6g
The % Daily Value (DV) tells you how much a nutrient in a serving of food contributes to a daily diet. 2,000 calories a day is used for general nutrition advice.
INGREDIENTS: pasteurized milk, cheese culture, salt, enzymes
Updated: 09/28/2020
Description
Grande Low Moisture Whole Milk Mozzarella is creamy white with a rich buttery flavor and tender mouthfeel. It is all natural - made without preservatives, fillers or artificial ingredients. Each package contains 40 slices, separated by parchment sheets, to eliminate labor and ensure consistent portion sizes to manage costs. Each slice is approximately 1.0 oz.
Ingredients
pasteurized milk, cheese culture, salt, enzymes
Storage & Handling
For best performance, keep refrigerated under 42°F. Product should not be frozen. Make sure cheese is being properly rotated to meet "Best If Used By" date.
Preparation
Prepped cheese should be kept cold and not allowed to sit at room temperature for extended periods of time. Always keep covered and refrigerate when possible.
Shelf Life
For best results, use within Best If Used By date on package.
Quality Code
Best If Used By date
Packaging
Resealable Bag - 6 X 2.5 lb
© 2023
Grande Cheese Company. All rights reserved. Reproduction without permission is prohibited. Privacy policy