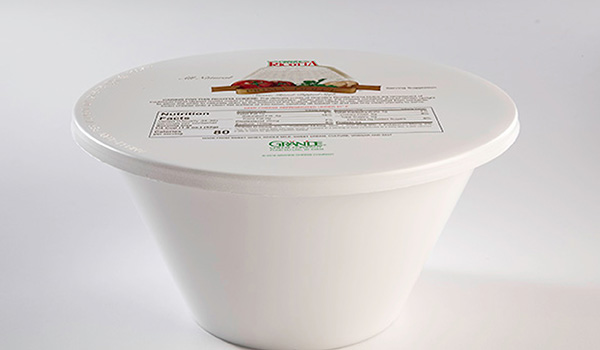 Nutrition Facts
34 servings per container
Serving size
1.8 oz (52g)
% Daily Value*
Trans Fat 0g
Total Sugars 0g
0%
Includes 0g Added Sugar
Protein 6g
The % Daily Value (DV) tells you how much a nutrient in a serving of food contributes to a daily diet. 2,000 calories a day is used for general nutrition advice.
INGREDIENTS: Sweet whey, whole milk, sweet cream, culture, vinegar and salt
This product is Kosher
Updated: 09/28/2020
Description
The delicate curds of Grande's Ricotta Prima Dolce® are reminiscent of the traditional hand-dipped ricotta made in the Italian countryside. Prima Dolce® is delightful in any application or as a memorable dessert served with slices of fresh fruit or a sprinkle of cinnamon-sugar.
Ingredients
Sweet whey, whole milk, sweet cream, culture, vinegar and salt
Storage & Handling
Reclosable container (tub). Keep cheese refrigerated under 37°F. When storing, the cheese container should remain upright to allow the whey to naturally drain to the bottom of the basket.
Preparation
Before opening container, always check the "Best If Used By" expiration date on the container to make sure this delicate cheese has been properly rotated and is at its peak performance level before using. When ready to use, remove basket from container. Invert cheese onto a clean flat surface or into bowl, carefully lift basket up and use only clean utensils to serve.
Shelf Life
For best results, use within Best If Used By date on package
Quality Code
Best If Used By date
© 2022
Grande Cheese Company. All rights reserved. Reproduction without permission is prohibited. Privacy policy
*
This product is a random weight item. Actual weight will differ.