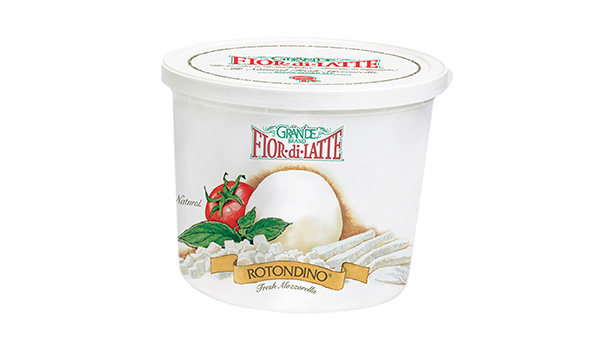 Nutrition Facts
80 servings per container
Serving size
1 oz (1/10 Ball) (28g)
% Daily Value*
Trans Fat 0g
Total Sugars 0g
0%
Includes 0g Added Sugar
Protein 7g
The % Daily Value (DV) tells you how much a nutrient in a serving of food contributes to a daily diet. 2,000 calories a day is used for general nutrition advice.
INGREDIENTS: Cultured pasteurized milk, cream, sea salt, enzymes
Updated: 09/28/2020
Description
All natural Grande Rotondino ("Round and Plump") are 10 ounces. Fresh Mozzarella balls are made with specially selected cultures for flavor characteristics reminiscent of fresh mozzarella handmade in the Italian countryside. Grande Rotondino is ideal for quantity chopping, dicing and slicing for pastas or salads.
Ingredients
Cultured pasteurized milk, cream, sea salt, enzymes
Storage & Handling
Reclosable container (tub). Keep cheese completely submerged in its brine solution and store in covered container. Keep cheese refrigerated under 37° F. Only use clean utensils to remove cheese from container.
Preparation
Before opening container, always check the "Best If Used By" expiration date on the container to make sure this delicate cheese has been properly rotated and is at its peak performance level before using. Always prepare cheese on a clean surface. Use clean, sharp, non-serrated knife to cut with one smooth and continuous stroke for exceptional visual presentation.
Quality Code
Best If Used By date
© 2022
Grande Cheese Company. All rights reserved. Reproduction without permission is prohibited. Privacy policy